Trademark Trial and Appeal Board
Patent and Trademark Office (P.T.O.)
*1 BURNS PHILP FOOD, INC., BY MERGER AND CHANGE OF NAME FROM SPECIALTY
BRANDS, INC.
v.
MODERN PRODUCTS, INC.
August 10, 1992
Hearing: April 23, 1992
 Opposition No. 77,433 to application Serial No. 73/663,828, filed June 1, 1987
Robert E. Browne and Vedder, Price, Kaufman & Kammholz for Burns Philp Food, Inc.
Allan B. Wheeler for Modern Products, Inc.
Before Simms, Seeherman and Hohein
Commissioners
Opinion by Simms
Member
 Burns Philp Food, Inc. (opposer), by merger and change of name from Specialty Brands, Inc., has opposed the application of Modern Products, Inc. (applicant), a Wisconsin corporation, to register the mark shown below

for spices. [FN1] In the opposition, opposer asserts that applicant's mark so resembles the mark SPICE ISLANDS, previously used and registered by opposer for spices and seasonings, as to be likely to cause confusion, to cause mistake or to deceive.  Among other things, opposer asserts that "consumers have come to associate SPICE [place] marks as associated with opposer." In its answer applicant has admitted that opposer owns the pleaded registrations and that opposer's right to use its registered marks has become incontestable, but has denied other allegations of the opposition.
 The record of this case consists of testimony (and exhibits) made of record by both parties, a discovery deposition relied upon by opposer, and applicant's application file. As rebuttal, opposer filed a notice of reliance on five published court and Board cases involving opposer and its mark SPICE ISLANDS. [FN2] The parties have filed briefs and an oral hearing of argument was held.
 Opposer took the testimony of Mr. Don Yuen, its product manager, who is responsible for the marketing plans of the SPICE ISLANDS herbs, spices, seasonings and wine vinegar. Opposer sells over 130 products under this mark. He testified that those goods are sold through food brokers and distributors to supermarkets, specialty and gourmet food stores, as well as to some department stores. Annual sales are near $30 million at wholesale (approximately $50 million at retail). Over the last three years, opposer has spent approximately $1 million in advertising and promoting its SPICE ISLANDS goods by such means as television, magazine and newspaper advertisements as well as by direct mail and coupons. Opposer also sells and distributes under the mark such goods as cookbooks, recipe leaflets, spice racks and seasoning charts.
 According to the testimony of Mr. Anthony Palermo, applicant's chief executive officer and chairman of the board, applicant began using the mark SPICE GARDEN on March 12, 1987. Applicant primarily sells its goods, displayed in spice racks, in health food stores. Applicant has used print advertising and has displayed its goods at trade shows. According to Mr. Palermo, he is aware of no instances of confusion involving the respective marks of the parties. With respect to use of the term "SPICE" in marks of third parties, Mr. Palermo identified a SPICE KITCHENS brand of spice which he purchased, and he testified that he has seen SPICE MARKET spices for sale. Applicant has also made of record third-party registrations covering these marks as well as the marks THE SPICE HUNTER and design, SPICE CLUB, SPICE DELIGHT, SPICE GRAINS and SPICE RACK. [FN3]
  *2 In view of opposer's registrations and testimony, there is no issue of priority. Also, the goods described in opposer's registrations are either identical or closely related to the goods set forth in applicant's application. While applicant's products are currently sold in health food stores, applicant's application does not restrict use of its mark to any specific trade channel. Moreover, applicant is apparently attempting to sell its goods in various channels of trade including supermarket chains.
 The testimony and exhibits of record demonstrate to our satisfaction that opposer's mark is very well known for spices, having been extensively sold and advertised over approximately 50 years. However, for the reasons indicated below, we believe that applicant's mark is sufficiently different from opposer's, both considered in their entireties, that, even applied to identical goods, confusion is unlikely.
 First, there are obvious differences in the marks in pronunciation and appearance. Applicant's mark appears in a semi-circle and is lined for the color green, which is claimed as a feature of its mark. We also believe that the marks are significantly different in connotation and commercial impression. Applicant's mark, in the application and as actually used on its goods (reproduced below), conveys the meaning of a garden where spices are grown.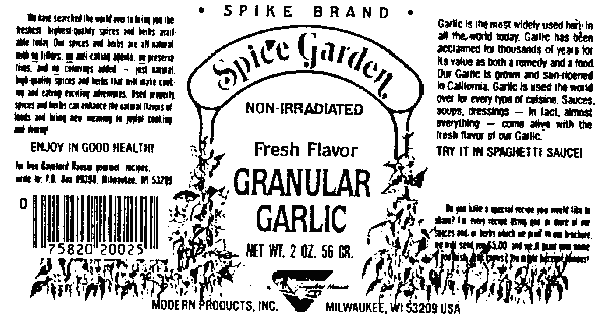 This connotation is to be contrasted with that of opposer's mark. Mr. Yuen, opposer's witness, testified, at 94, as follows:
   Q306 Over the years has the Spice Islands' mark been advertised to convey any particular type of image?
   A Yes.
   Q307 What is that?
   A The image is an exotic, wordly image. That of going to distant corners of the earth to find the best spices and herbs and seasoning; you can call it a nautical motive [sic] or image that we try to convey.
Applicant has also pointed to a number of exhibits which tend to reinforce this image of South Seas islands. For example, in The Spice Islands Cook Book, p. 10, the following historical information may be found:
   It was the Magellan round-the-world expedition of 1519-23 that finally charted a course to the Spice Islands. With a fleet of five small ships, he left Spain in the summer of 1519 and after two years of adventure and hardship dropped anchor in Philippine waters. Here Magellan was killed in an uprising of the natives, but the remnants of his expedition continued south and discovered the cluster of volcanic islands west of New Guinea where Cloves, Nutmeg, Cinnamon, Pepper, and other spices grew in profusion. The Magellan expedition continued on its way and finally returned to Spain in 1523 with the news of this discovery so important to the spice trade. (Of the five ships and 265 sailors who started on this long voyage, only one vessel and 18 sailors returned to Spain!)
   The islands that the expedition discovered where given by Spain to Portugal to administer under a papal treaty. The Portuguese carried on a profitable trade for two hundred years before the islands were seized by the Dutch, who administered them until the formation of the Indonesian Republic. Today the Spice Islands, known also as the Moluccas, continue to produce an abundance of aromatic, flavorful spices that work their wonders for us as they did for people hundreds of years ago.
*3 See also exhibits 27 and 28.         We agree with applicant that the seafaring, South Seas image conveyed by opposer's mark is not suggested by applicant's mark, nor by any of the trade dress which applicant uses. Applicant's mark conveys no association with the Spice Islands or any similar exotic image. It appears to us, therefore, that opposer is reaching when it argues that the respective marks convey the same general idea and stimulate the same mental reaction because
   [t]he words "islands" and "garden" have similar connotations in that both convey images of tranquility and foliage. (Opposer's brief, 24)
The green stylized letters in an arc sought to be registered and the leafy vines as used on applicant's labels (not part of the mark sought to be registered) suggest an entry way into a garden, reinforcing the image conveyed by applicant's word mark. This design is different from the ornamental filigree design surrounding opposer's mark. Therefore, while we recognize that the fame of a mark is entitled to substantial weight in our deliberation (see Kenner Parker Toys Inc. v. Rose Art Industries Inc., --- F.2d ----, 22 USPQ2d 1453 (Fed.Cir.1992)), the differences in connotation and in trade dress on the labels are significant countervailing factors.
 While opposer has argued in its brief that the products of the parties are both displayed in racks in retail stores, opposer has conceded that there is nothing novel about either the way its goods are displayed in racks in grocery stores or opposer's bottle size. [FN4] We agree with applicant, therefore, that this case is distinguishable from those relied upon by opposer. This case does not present a situation where an applicant seeks registration of the word "SPICE" coupled with a topographical place (SPICE VALLEY or SPICE SEAS) and where trade dress provided evidence of confusingly similar commercial impressions. See Specialty Brands, Inc. v. Coffee Bean Distrubutors, Inc., 748 F.2d 669, 223 USPQ 1281 (Fed.Cir.1984) and Specialty Brands, Inc. v. Spiceseas, Inc., 220 USPQ 73 (TTAB 1983). Nor is it a case where the record includes evidence that the plaintiff has used its mark in association with a symbolic representation of a word in applicant's mark. See Spice Islands, Inc. v. Frank Tea and Spice Company, 505 F.2d 1293, 184 USPQ 35 (CCPA 1974) (SPICE ISLANDS sometimes used in association with a representative of a tree v. SPICE TREE and tree design). Nor is it a case where the word combinations themselves were "strikingly similar" in sound and meaning. See Spice Islands Company v. Spice Land Products, Inc., 262 F.2d 356, 120 USPQ 64 (2d Cir.1959) (SPICE ISLANDS v. SPICE LAND). Opposer's argument that both marks include the word "SPICE" together with a "location descriptor" seems to us to paint with too broad a brush any alleged similarity between the respective marks. [FN5]
  *4 Accordingly, even though the parties' goods are relatively inexpensive and would presumably be purchased without much care, and even though opposer's mark is famous in the field of spices, it is our firm belief that applicant's mark, considered in its entirety, is sufficiently different from opposer's in sound, appearance and meaning that confusion is unlikely.
 Decision: The opposition is dismissed.
R.L. Simms
E.J. Seeherman
G.D. Hohein
Members, Trademark Trail and Appeal Board
FN1. Application Serial No. 73/663,828, filed June 1, 1987, claiming use since March 12, 1987. The mark has been lined for the color green and the word "SPICE" has been disclaimed.
FN2. Opposer seeks to rely upon those decisions as evidence of its efforts to police its mark. Applicant has moved to exclude or strike the notice of reliance because it is not proper rebuttal and because any evidence concerning the policing (and therefore the strength of opposer's mark) should have been the subject of testimony during opposer's testimony-in-chief. Because applicant's record includes third-party registrations and testimony concerning use of various third-party marks containing the word SPICE, we believe that these cases may be relied upon to show opposer's efforts to police its mark. Of course, they may not be relied upon as proof of any facts established by those records.
FN3. Also of record is a registration of the mark SPICE GARDEN for dried spices. That registration, issued in 1977 to a third party, was cancelled under Section 8 of the Act.
 While we agree with opposer that applicant's search report per se is not proper subject matter for a notice of reliance, the third-party registrations which accompany the search report are admissible as copies of official records. See Trademark Rule 2.122(e).
FN4. Applicant's attorney represents, brief, 7, that:
   [T]his is the only way to get a store to carry the entire line of spices sold by the spice supplier and ... all spice manufacturers have such racks.
FN5. On this point, applicant argues, brief, 3:
   There is no rule which permits a trademark owner to protect an abstract generalized construct, such as the "spice (place)" format. No objective evidence shows that all such marks result in a substantial likelihood of confusion. Such a doctrine would result in extreme anticompetitive and monopolistic practices in cases where no substantial likelihood of confusion exists.