Trademark Trial and Appeal Board
Patent and Trademark Office (P.T.O.)
*1 IN RE DEERE & COMPANY
Serial No. 574,301; 574,308
March 18, 1988
Hearing: December 9, 1987
John M. Nolan for Deere & Company
David Stine
Trademark Examining Attorney
Law Office 8
(Sidney Moskowitz, Managing Attorney)
Before Sams, Rice and Rooney
Members
Member
 Two applications were filed by Deere & Company to register marks described as a green machine body or frame with yellow wheels. The marks shown in the drawings appear below.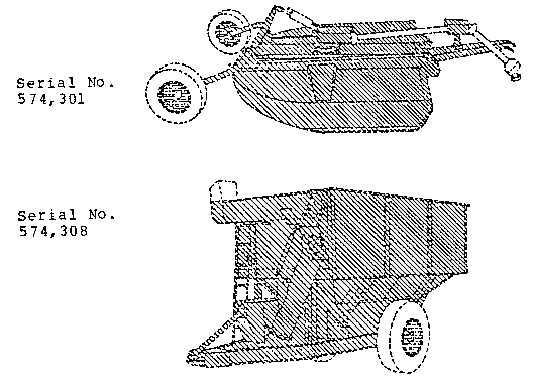 The goods in application Serial No. 574,301 are identified as wheeled agricultural, lawn and garden, and material handling machines, namely, tillage machines, haying machines, harvesting machines, mowers, cutters, shredders, sprayers, loaders, spreaders, planting machines and snow removal machines. First use is stated to be December 31, 1905.
 The goods in application Serial No. 574,308 are identified as agricultural tractors, lawn and garden tractors, trailers, wagons and carts. Use as of December 31, 1918 is claimed.
 In each application, it is stated that "(t)he drawing is lined for a bright green color, sometimes known as 'John Deere' green and a bright yellow color and claim is made for such colors." [FN1]
 Registration was refused in both applications under Sections 1, 2 and 45 on the ground that the matter presented for registration is merely product ornamentation and hence does not serve a trademark function and also because the color scheme presented is unregistrable as an aesthetically functional feature of the goods. The Examining Attorney has conceded that applicant's evidence is sufficient to overcome the refusal as ornamentation and to allow applicant's marks to register if it is ultimately found that the color scheme sought to be registered is nonfunctional. It is applicant's position that the doctrine of aesthetic functionality was rejected by the Court of Customs and Patent Appeals but that, even if it hadn't been, the Examining Attorney has failed to meet the burden of making out a prima facie case of nonregistrability.
 Applicant points to the statement made in Judge Rich's concurring opinion in In re DC Comics, Inc., 215 USPQ 394 (CCPA 1982).
   Thus, it is arguable that there is no 'doctrine' of aesthetic functionality which stands alone, without consideration of the more traditional source identification principles of trademark law. To the extent that there may be-- at least with respect to ex parte prosecution--it has been previously rejected by this court.
 In response to this argument, the Examining Attorney notes that the above quoted material is dictum from a decision involving a design configuration, rather than a color mark, and in which decision that rationale was not incorporated. Moreover, asserts the Examining Attorney, applicant's contention cannot be valid in light of the fact that the Court cited, with apparent approval, in In re Owens-Corning Fiberglas Corp., 227 USPQ 417 (Fed.Cir.1985) aff'd 721 F.2d 253 (CA8 1983) the case of Deere and Company v. Farmhand, Inc., 217 USPQ 252 (SD Iowa 1982), in which the color green was said to be aesthetically functional as applied to front end loaders because farmers wanted their equipment to match. The Examining Attorney also relies on the District Court's findings and the underlying evidence in the Farmhand case as being sufficient to establish a prima facie case that color is a de jure functional feature of applicant's goods.
  *2 We note first that the question of aesthetic functionality was a subject dealt with in the majority opinion and in a second concurring opinion by Judge Nies [FN2] in the DC Comics case, as well as in Judge Rich's concurring opinion. Speaking on the matter, the majority said:
   In characterizing (erroneously, we believe) appellant's drawings as  'artistic renditions of the dolls' themselves, the Board found that the drawings incorporated certain 'design features' of the dolls which are 'functional in a utilitarian sense,' 211 USPQ at 837. The Board reasoned that the features in question were 'indispensable elements of the commercial appeal of the product' and, therefore, were 'commercially functional' facets of the dolls that could not be used to designate source. 211 USPQ at 837.
   The board's rationale finds support in recent circuit court opinions which include within the category of 'functional features' any aspect of a product that is 'an important ingredient in the commercial success of the product'. (citation omitted) However, we consider such a broad definition to be at odds with this court's precedent in this area. See, e.g., In re Penthouse International Ltd., 565 F.2d 679, 682-3, 195 USPQ 698, 700-01 (CCPA 1977).
 Reference to the Penthouse case reveals, that the application involved therein was rejected by the Examining Attorney on the ground that "(D)esigns of jewelry are considered to be functional in nature because it is the design of the jewelry that appeals to purchasers, and a particular piece of jewelry is purchased because of its design. Thus ... the jewelry design would not be regarded as an indication of origin in applicant, but rather would be a design whose attractiveness and eye-appeal 'sell' the goods. [Citations omitted]." The Trademark Trial and Appeal Board affirmed the examiner's refusal to register. In connection therewith, the Court stated the following:
   The stylized key design in the present case may have the function of attracting purchasers, but the shape of the jewelry, like the mark, is arbitrary and nonessential to a functioning piece of jewelry. The ornamentation function basis of rejection, argued here by the Solicitor, was summarily rejected by this court on a related issue in Mogen David, supra, and is without merit. 'Ornamentation function' was given extensive treatment by Judge Rich in his concurring opinion:
   [There is] an essential distinction between engineering function which should be recognized in passing on these cases which involve the policy question whether the public shall have freedom to copy or not. In Deister, for example, use of the diagonal shape was essential to the enjoyment of the engineering advantages which brought it into being. ... In the instant case, even if we assume some value behind the specific design in an aesthetic sense, it is not in the least essential to use in order to have a fully functioning bottle or an attractive bottle or even a bottle of the general type of the Mogen David bottle, whether or not considered to be a 'decanter'. ...
    *3 The restatement appears to use the terms 'functional' and 'non-functional' as labels to denote the legal consequence: if the former, the public may copy; and if the latter, it may not. But going behind the labels to the bases for determining which to apply, we see, I believe, that depriving the public of the right to copy Mogen David's bottle in selling wines and related products (1) does not hinder competition and (2) does not take from the goods (bottled wine) something of substantial value. ...
 The majority and concurring opinions in DC Comics, read in conjunction with the foregoing, leave little doubt that aesthetic functionality, per se, (sometimes referred to as ornamentation functionality [FN3] is a doctrine which has been rejected by the Court of Customs and Patent Appeals (now the Court of Appeals for the Federal Circuit). [FN4] It appears rather that, regardless of what the subject matter is, the question of functionality must be determined on the basis of whether or not the matter presented for registration is primarily functional (i.e., utilitarian) and whether in the performance of that function it is so superior to other such matter that depriving competitors of its use would create an inequity in their ability to compete effectively. Cf. In re Morton-Norwich Products, Inc., 213 USPQ 9 (CCPA 1982).
 Turning to the question of the color of applicant's goods, we note that it has not been suggested that the colors green and yellow, as applied to the body and wheels, respectively, of applicant's farm and garden equipment perform any utilitarian function such as was found in the color of reflective fence posts (In re Pollack Steel Co., 314 F.2d 566, 136 USPQ 651 (CCPA 1983), the blue dot on flashbulbs (Sylvania Electric Products, Inc. v. Dura Electric Lamp Co., 247 F.2d 730, 114 USPQ 434 (3rd Cir.1957), or the brown color of a quinine preparation (William R. Warren & Co. v. Eli Lilly & Co., 265 U.S. 526 (1924), all cited by the court in Owens-Corning. Nor do we recognize any function thereof apart from simply making the product more attractive. Moreover, there is no evidence which would indicate that competitors have a need to use applicant's color scheme to compete effectively. The argument of the Examining Attorney that "all other things being equal farmers prefer their equipment to match" is unpersuasive since other material considerations, including a product's quality, function, cost, etc. as well as dealer location, reputation, warranty, etc. are not likely to be equal.
 What is involved here is merely a question of ornamentation and the Examining Attorney has already stated that applicant's evidence of secondary meaning is ample to establish recognition as a trademark, overcoming the ornamentation refusal. Another factor in applicant's favor is that we are not dealing in this case with a single overall color but with two colors applied in a specific and arbitrary fashion. [FN5] It has long been settled that "color when applied to goods in some definite arbitrary manner or design can function as a trademark if it is used thereon in the manner of a trademark and if it is recognized in the trade and or by purchasers as identifying and distinguishing the source of the product or products in connection with which it is used." See In re Ritchie Manufacturing Company, 170 USPQ 291 (TTAB 1971). Since the Examining Attorney has conceded that applicant's color scheme has achieved secondary meaning in relation to applicant's goods, there appears to be no reason to refuse registration.
  *4 Accordingly, the refusal to register is reversed.
J. D. Sams
J. E. Rice
L. E. Rooney
Members, Trademark Trial and Appeal Board
FN1. Both applications contain the statement that the vehicle body shown in the drawing is illustrative only and does not form part of the mark.
FN2. Judge Nies, in her specially concurring opinion in DC Comics said,  "(W)ith respect to the aesthetics of a product, the better reasoned authorities have come down on the side of recognition of exclusive rights, after the public has learned to associate those aesthetics with a single source thereby encouraging the development of different designs and providing a wider range of selection in the market place."
FN3. See In re DC Comics, supra.
FN4. Regarding the Examining Attorney's argument as to a reference made by the Court in In re Owens-Corning Fiberglas Corporation, supra to Deere & Co. v. Farmhand, Inc., supra, we believe its inclusion was simply intended as one illustration, among several, of cases dealing with the question of color as a functional feature. It did not, nor do we believe it was intended to, overrule the Court's previously stated position on aesthetic functionality. Indeed, holdings of the Court of Customs and Patent Appeals having precedential status are binding on the Court of Appeals for the Federal Circuit, which may overrule such holdings only by an en banc decision. See: South Corp. v. United States, 690 F.2d 1368, 215 USPQ 657 (CAFC 1982). The Owens-Corning case was not decided by an en banc panel.
FN5. It is noted that the reliance of the Examining Attorney on the Farmhand case for a collateral estoppel effect is misplaced for several reasons not the least of which is the fact that the Farmhand case involved equipment that was painted in a single, overall color, green, while here as aforementioned there are two colors applied in a specific and arbitrary fashion. Moreover, the decision in that case was based on "aesthetic functionality", a doctrine not followed by our reviewing tribunal, among others. See, generally, McCarthy § 7.26 including the cumulative supplement thereto.